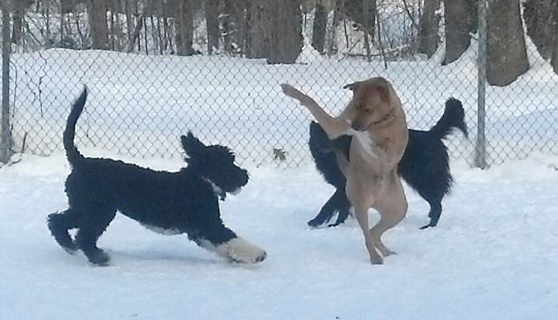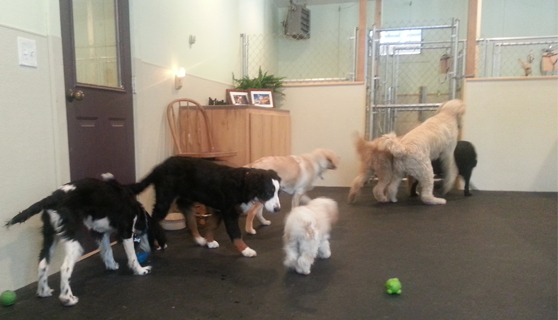 We offer Doggy Daycare
We provide a safe environment for your friendly pets to play and socialize.

Daycare is a great option for pets who would rather spend the day with other dogs and humans rather than stay home alone. Daycare is a great alternative to leaving your pet in your hotel room while you enjoy our great state of Maine.

We invite friendly, playful dogs to attend daycare where they will receive attention, and socialization all day long. We have over 9,000 square feet of fenced outside play yard, as well as an indoor play room. Dogs get to exercise with one another and play throughout the day. We have a variety of toys and balls as well as a pool in the warm months to keep your dogs happy and comfortable. So whether your dog enjoys splashing in the pool, chasing their friends, or taking a leisurely sniffing expedition, our enriching play yards offer something for everyone.
Many of our daycare doggies reserve the same days every week. These dogs get the added benefit of our Frequent Bark Card! After 10 visits your 11th visit is on us!
Daycare spots can also be reserved on a day to day basis as well.
Our play groups are primarily separated based on play style, not size.
Daycare isn't for every dog. If your dog suffers from separation anxiety we suggest the services of an in-home care taker. It is important for all our dogs to be comfortable while staying with us. If your dog is anxious it will become a stressful environment for all the other dogs too. We also would not want your dog to injure themselves in an attempt to escape.

There is always the risk of injury when dogs play together. Dogs have teeth, nails and tremendous strength; even friendly play can be dangerous. If you are considering daycare please take a moment to look over our policies page. Please request a boarding release form to read more about our daycare and boarding procedures.

Females that are currently in season are not welcome at our facility.
Daycare is available 7 days a week excluding the following holidays: Christmas, Thanksgiving, and Easter

Daycare is $20/day per dog

We offer FREQUENT BARK CARDS for our frequent daycare clients. After 10 days of daycare, your dog's 11th visit is FREE!

We are open for drop off Tuesday through Saturday 8-10 AM and check out from 4-6 PM

Sundays and Mondays 8- 10 AM and 4-6 PM

We can accommodate any drop off and pick up times needed using our Unassisted Check In Room. Additional $5 fee applies.

The kennel is CLOSED to the public from 10-4 daily.
In an effort to keep all of our guests calm and comfortable we are CLOSED to the public from 10-4 daily. Having people come in and out of our facility, and new dogs joining and leaving play groups, is very disruptive to our guests, so we like to keep these times to a minimum to ensure maximum comfort for our dogs. We appreciate your understanding and cooperation. If you will need to make arrangements to drop off or pick up your dog during any of our closed hours please visit our Self Check Out/In page for more information.
Daycare dogs must be:
Friendly with other dogs
Friendly with people
Show proof of current immunizations (rabies, distemper, kennel cough)
It is recommended that your dog be on a flea and tick preventative
It is recommended that your dog be spayed/neutered
Check out photos and videos of our happy guests on our
Facebook
page!